The second part of our story on catching up with Paul Tidmarsh and Blue Pacific Minerals, his unique minerals business, features the new $10 million processing plant in Tokoroa.
Blue Pacific Minerals (BPM) is in the middle of upgrading its zeolite and perlite process operation (made up of quarrying, drying, crushing, screening, classifying, packaging, storage, and a distribution centre) at Tokoroa after moving the operation there from Waharoa three years ago.
Overall the company is investing about $10 million in expanding the operation, which has involved the purchase of a 3500 square metre building with 32,000 square metres of land, and adding another 4500 square metres of building extension, located within a subdivision on the southern edge of Tokoroa.
The building has been redeveloped by Grant Tidmarsh (Paul's nephew) of GST Construction based in Matamata.
The plant and equipment is being sourced from Europe and the US, with Rocktec in Matamata providing the majority of the engineering.
The minerals
The zeolite and perlite mined by BPM are unique to the Volcanic Plateau. The term zeolite is literally translated from Greek as "boiling stones" – a reference to its water absorption/desorption properties. It forms where volcanic ash layers react with alkaline groundwater, and there are over 40 separate types of the mineral around the globe, each with a specific geophysical or geochemical make-up. Only a small number of these zeolites are extracted for commercial use. Each ore deposit, and therefore its commercial performance, varies significantly.
New Zealand zeolite, aged around 100,000 years is, on a global basis, very young and relatively lightweight, soft and very porous when dehydrated. The Aussie variety is around two to three million years old and is comparatively hard (mohs 7), dense, heavy, and relatively non-porous and is therefore a poor absorbent. Zeolites are also characterised by their high cation exchange capacity (CEC) which is a part of what makes the mineral a "special clay" and the New Zealand variety is no exception.
The New Zealand zeolite has proven an excellent material for such uses as pet litter and as an absorbent for BBQ fat and oil spills. It is also an integral ingredient for slow release fertilisers, water filtration, ruminant feed optimiser, and as a carrier for many liquid products made easier to handle as solid products.
Once you understand all of the attributes of New Zealand zeolite it is easy to see how the many markets that BPM serves are derived.
Presently 60 percent of the zeolite mined by BPM is sold here (the majority into the absorbent market) and the rest is exported to Australia and SE Asia. These percentages will change significantly once the new plant is operational.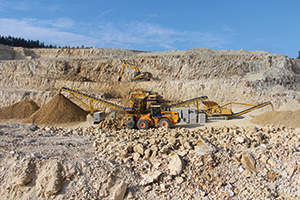 Popcorn rock
Perlite couldn't be more different from zeolite, and Paul refers to it as "popcorn rock". It is defined as an "amorphous volcanic glass". When the prepared ore is fed into a proprietary furnace at ~850 degrees Celsius, the water trapped inside the glass "vesicles" turns to steam and it expands like popcorn to more than 25 times its original volume.
There are only a few good commercial perlite resources around the world, and Paul concedes that when you are selling this mineral from the bottom of the world, then your product has to be either the best, or the cheapest. The BPM product is considered one of the best, but price dictates how far you can ship it commercially.
The expanded ore is used in such industries as lightweight aggregates, hydroponics, loose-fill industrial insulation, cast-form insulation, and acoustic ceiling tiles. The unexpanded ore is used in steel-making where the perlite is spread thinly onto the top of a steel melt, and it proceeds to form a cheese-like layer coagulating surface impurities which can then be removed, prior to pouring.
Some of BPM perlite is shipped to SE Asian foundries for this use, but the majority of the volume goes to Australia and SE Asia for use as a cryogenic insulant in the petrochemical industry. In this application, the expanded ore is shipped to its end-use destination and then "popped" onsite and pneumatically pumped into a false wall chamber surrounding a tank containing cryogenic liquid – LNG, for example which is kept at –160 degrees Celsius.
Extraction – (sunglasses essential)
As both perlite and zeolite are quite soft materials – they both require no blasting, and the extraction, crushing, and screening processes are very similar – they can be treated with common mobile gear and plant.
Due to the relatively high ambient moisture content and low abrasion index, the zeolite is crushed with the 'old fashion' toothed rolls crushers. The zeolite is mined during the summer and stockpiled "very quickly", says Paul Tidmarsh, under custom-designed storage buildings onsite before it is rained on.
"During the summer we draw directly off the face, and during winter from the storage sheds."
Dust is not a problem he says given the natural moisture content (typically circa 36 percent). However, sunglasses are the order of the day during the summer months because of the glare from the naturally white rock.
The perlite extraction is somewhat simpler and is presently contracted out to Winstones (which operates a nearby stone quarry in the forest) using standard crushing/screening gear.
Product marketing
The expansion of the business also includes bringing new product to market.
"The selective mining process has allowed some of the BPM resource to be used in a new branded product called 'Stockrock', which is used on farm races and sold throughout the North Island," says Paul.
The product performs exceptionally well both in terms of being soft on the cows' feet on the long walks now the norm in New Zealand dairying, but also in its robustness when laid, he adds, and has self-cementing property which, after grading and rolling, provides the ultimate far race surface.
"It is still zeolite soft rock with a mix of premium grade included and has become an important segment of our business. As quarrying goes this is as sustainable as you can get, with almost nil waste from the site."
The overburden is a consistent 1.5 metres thick and this goes, initially, into a neighbouring gully, which will be contoured and re-grassed. Future overburden will go back into re-establishment, following the working area of the quarry forward. Each stripping campaign provides approximately three years of available ore.
Other new products being pushed are Optimate – which is a ruminant feed optimiser – offering improved feed utilisation in dairy cows, and Optibind in which BPM zeolite is a component in a mycotoxin-binder (absorbing toxins contained in stockfeed) for export.
Production expansion
Paul estimates that they have enough resources of both minerals to last 100 years.
The perlite was formed along with pumice, Rhyolite, and obsidian via volcanic lava flows producing perlite beds up to 30 metres thick. Based on a number of existing geological surveys, Paul and Dave did their own exploration and found "just a little corner of perlite sticking out of the ground in a pine forest" near Atiamuri. Not only was it a thick deposit, but fortuitously, it was located in an accessible area with no cliffs, rivers, local houses, or public roads and had "friendly" owners.
"With no neighbours, a willing owner, and a go-ahead local iwi, we also got off lightly with consenting – albeit with the normal drawn out bureaucratic process," Paul adds.
The zeolite is quarried out of an opencast mine, 20 kilometres south of Rotorua at Ngakuru.
By the time the new facility at Tokoroa is in full flight, production of perlite will have lifted from 8000 tonnes in 2014, to 25,000 tonnes by 2019, and zeolite from 12,000 tonnes in 2014, to 38,000 tonnes by 2019. The forecast also has Stockrock production increasing from ~45,000 tpa to 80-100,000 by 2109.
This expansion project has been carried out in stages with the first involving some very impressive landscaping of the new eight acre site at Tokoroa, and the redevelopment of the 160 metre long building that came with the property carried out in 2009.
The next expansion stages, which are being manufactured as this article is being written, will be covered in the June issue.